Dr. Mahesh Mehta Scholorship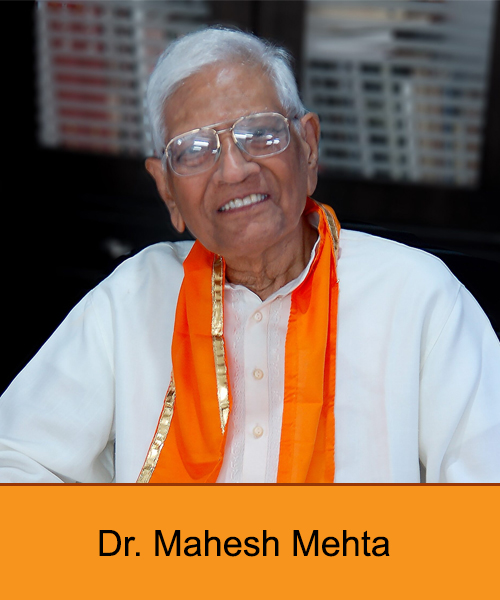 Mahesh Bhai's singular mission was to keep Hindus in America as Hindus. He was most concerned about the Hindu identity outside of India, so he dedicated his life to building the Hindu movement and Hindu identity in North America. He positioned Hindus as the leading contributors to the growth and development of their adopted country. He founded VHPA in 1970 and subsequently, served as the General Secretary and the President of the organization for several years. VHPA, under the leadership of Maheshbhai, pioneered weekend Hindu schools (Balvihars) and Summer Youth Camps for the Hindu children growing up in the USA. National, regional and local Hindu conferences brought together the Hindu community to network and explore issues, ranging from parenting to challenges faced by the small and geographically dispersed Hindu community in America. Mahesh Bhai's work in the USA has been foundational; and now it has grown into a tree of many branches. He was instrumental in establishing Hindu Swayamsevak Sangh, Hindu University of America, Hindu Students Council (HSC), Ekal Vidyalaya Foundation, India Quality Group, and Global Indians for Bharat Vikas (GIBV) among many others. Mahesh Bhai's life is a "Jyoti Punj", a beacon that will continue to inspire and guide the Hindu Diaspora forever. People like him, who dedicate every moment of their life in service of others, truly construct world history.
Smt. Anjleebahen Pandya Scholorship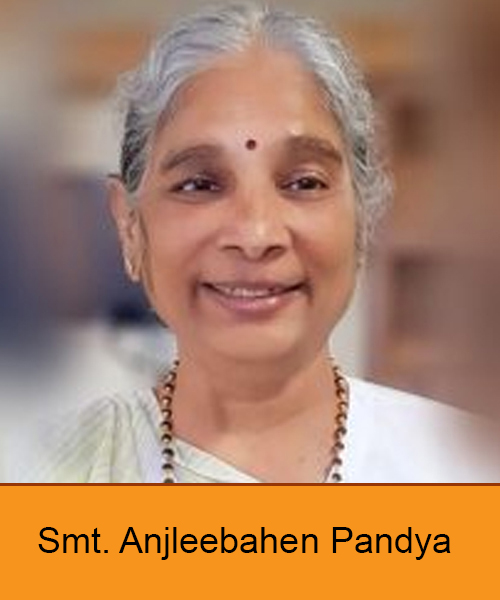 Many people walk in and out of our lives, but only a few leave footprints in your heart. Smt. Anjleebahen Pandya was one of them. Smt. Anjleebahen Pandya lived and breathed Vishwa Hindu Parishad of America like none other. The two were inseparable. The culture of VHP of America was shaped by Smt. Anjleebahen Pandya since its formative years. She taught us how to communicate and behave with each other, to build a family and a community. Smt. Anjleebahen Pandya was the epitome of a selfless volunteer, totally committed to the Hindu cause that she took upon herself at a very early age. Throughout her life she inspired people, and organizations, with her boldness, dedication, determination, creativity, kindness and compassion. People may forget what you said, people may forget what you did, but people will never forget how you made them feel. Smt. Anjleebahen Pandya was a sister to all. She would make everyone feel special. Smt. Anjleebahen Pandya served Vishwa Hindu Parishad of America (VHPA) in various capacities, including as its General Secretary, and also as a fulltime unpaid volunteer for many years. Her contribution to VHPA right from its inception is immeasurable
Shri. Ram Suchdeva Scholorship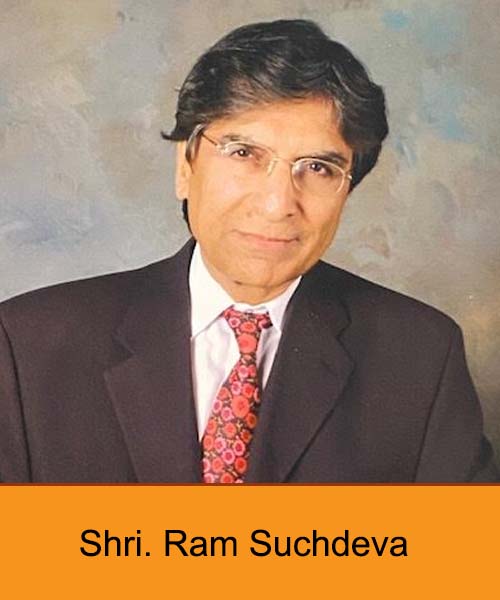 Ram, his wife Beena, and his son Kailash came to New York from Mumbai in the early 1970's, when many Indian-Americans arrived as engineers.
Ram worked as an electrical engineer at large NY area construction firms, and then established his own construction and real estate management business in NYC where he built and maintained residential apartment buildings.
Ram, a Rashtriya Swayamsevak Sangh swayamsevak in his early youth and participant for many years, was a strong proponent of, and believer in, the Hindu religion. He was involved with Vishwa Hindu Parishad in his youth, and later VHP U.S. His son Kailash attended VHP summer camps as a camper and subsequently counselor.
Ram was a staunch supporter of the Bharatiya Janata Party and a unified, democratic Bharat.
Ram participated in the Federation of Indian Associations, serving as Vice President for a period in the 1990's. He was also associated with the Hindu Temples of North America organization, attending committee meetings and conferences to unify Mandirs in the U.S. to jointly consult and meet with the relevant US government agencies.
Ram founded Overseas Sindhu Sabha and served as the Chairman to bring together and maintain a strong Sindhi community in the New York metropolitan area, while trying to engage heavily with the second and third generations in participation. He would offer thoughts and guidance when meeting with members and would provide solace in times of need, e.g., reading passages from the Bhagavad Gita at funerals to console families and the entire community.
Ram also participated in Hindu Swayamsevak Sangh USA, and engaged with the next generation to become more actively involved in the organization's activities.
He supported Ekal Vidyalaya Foundation as he and his wife Beena were keen to help and encourage the Foundation's work in building schools in rural India.
Ram was a family man who cherished spending time with family, especially his grandchildren. He is survived by his wife Beena, son Kailash, daughter-in-law Pikloo, and grandchildren Amitav and Esha.
Shri Debi Prasad ji Sodhani Scholorship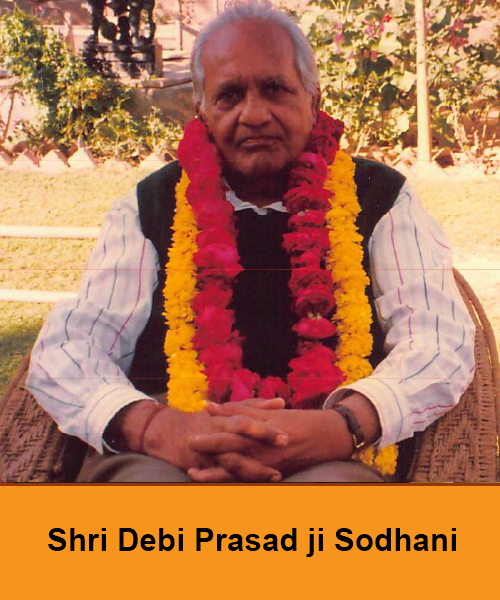 A kind and compassionate person, who truly cared for the welfare of others. His motto, give to others not to yourself. After retirement from running a textile mill in Nigeria, he devoted all his free time to running a free acupressure clinic at home for 22 years. He learnt the art and science of acupressure to heal from a Babaji. He cured thousands of patients including practicing physicians where patients came to him frequently as a last resort suffering from medical issues. He was a Devi bhakta and had the necessary divine energy to heal using acupressure. He spent every morning planning where food and other help had to be sent that day.
Sodhani Foundation has been founded by his son, Arvind ji Sodhani of California for the express purpose of supporting education, culture, empowering women, protecting Hindu heritage, environment, animals, agriculture, and families impacted by food insecurity.
Asthana Family Scholorship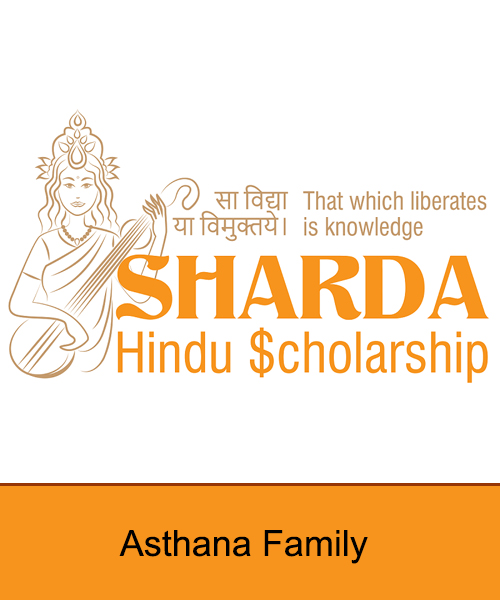 Dr. Abhaya Asthana is a Fellow at Nokia Bell Labs-CTO directing research in cognitive, self-reliable networks of the future - networks that continuously learn on their own and heal themselves. Earlier, he led the design of VLSI processors at INTEL. He got his Bachelors' degree in Electrical Engineering from I.I.T Kanpur, where he went back to teach from 1983-1985. Outside of science and technology, his passion is to learn about Hindu Dharma and history, practice it and pass it on to the children. His mission is to help Hindus living in America remain Hindus, and through their lives contribute to the richness of their adopted land. He served as the President of VHPA from 2014-2020 and currently is the Chairman of its Advisory Board. His wife, Jaya Asthana is a psychiatric social worker, helping families and individuals in distress, suffering from mental illness and substance abuse. She worked in the inpatient unit for 20 years at Harvard Mass General Hospital, Bournewood Hospital, and Elizabeth General Hospital in NJ. For the last 10 years she been working at VNA Care Hospice with people of all ages, with different diagnoses, who are at the end of their lives, when treatment options have been exhausted. Jaya is also very active in the community. She started and rans Bal Vihar, a Sunday school for children, teaching them Indian culture and language. She also volunteers her time in organizing many cultural programs in the community. Jaya has master's in social work from Rutgers University and Masters in Philosophy from Bombay University, India.
Bansal Family Scholorship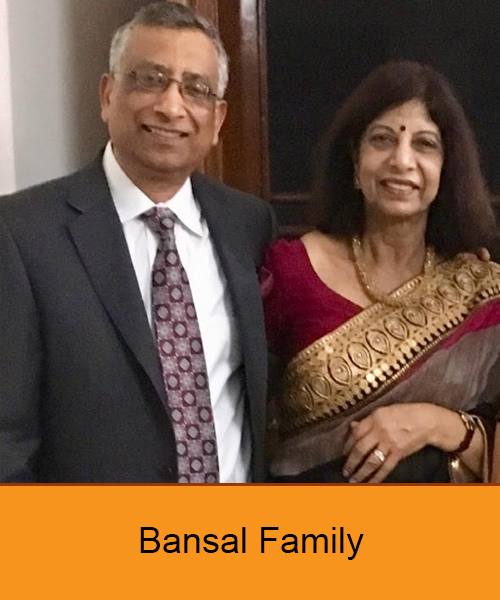 Dr. Jai Bansal is a scientist, author, and community leader with a keen interest in Indian history and in exploring the contributions of the Hindu civilization to the world. After a distinguished career spanning 38 years, he retired in 2014 as the Chief Scientific Officer of a global petrochemical company. From 2014 to 2018, he served as an advisor to the Argonne National Laboratory, Chicago, and the US Department of Energy. He holds a Ph.D. in Chemical Engineering from the University of Waterloo, Canada, and a B.Sc. (Distinction) from Panjab University. He has published widely and holds over two dozen scientific patents. He currently serves as the Vice President of Education for the World Hindu Council of America (VHPA), as well as a member of its executive board and the governing council. Mrs. Santosh Bansal is a retired IT professional, with a Master's degree in political science from Delhi University. After raising three children, she trained as a software specialist in the mid-1990s and quickly rose to become IT director for an international company. She currently runs an online fashion accessories business. Both Jai and Santosh Bansal are passionate about maintaining their civilizational identity and ensuring its intergenerational continuity. The scholarship they have sponsored is a small step in that direction.
Mr. Hari Bindal Scholorship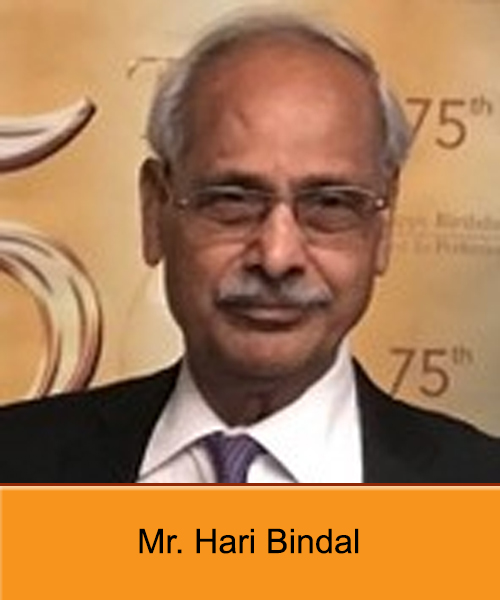 Mr. Hari Babu Bindal was born in the village of Jagner, 1 1/2 hours outside of Agra and immigrated to the United States in 1974.
He had a PhD in Environmental Engineering Management and Masters in both, Environmental Engineering and Public Health. Mr. Bindal retired in Washington DC after serving the US Government for 26 years.
With the objective of exchanging and collaborating technologies between India and USA, Mr. Bindal founded the American Society of Engineers of Indian Origin (ASEI) in 1983. ASEI has now transformed from a local grassroots organization into a national multi-tier organization across the United States. Mr. Bindal had great passion and patriotism for cultivating Hindu values and culture and served many social, political, cultural, and religious organizations at local and national levels. He valued education and established scholarships in his hometown to encourage education in rural India.
Mr. Bindal was a life member of VHP-A and an instrumental part of VHP-A national executive teams for multiple terms. Mr. Bindal enjoyed writing poetry and traveling. He published several books on Hindi humorous poetry, short stories and an autobiography. He traveled to over 50 countries on 5 continents.
Mr. Bindal and his son, Neeraj, also produced the first Hindi feature film, "Akanksha" in Washington DC that was shown at the Rose Bud film festival (1991) and on Doordarshan nationwide in India (1996). In January 2017, Mr. Bindal and his family traveled to Bengaluru for him to receive the highest honor for overseas Indians, the Pravasi Bharatiya Samman Award (PBSA), presented by the Hon'ble President of India, Mananiya Pranab Mukherjee. This award celebrates NRI's for their excellence in various fields, community service and philanthropy. We celebrate Hari Bindal as a servant for his contributions and countless hours to organizations that promoted education, Hinduism and placing India and Indians in the limelight.
Although Mr. Bindal accomplished all that he hoped for during his lifetime, we lost him way before his time and miss him immensely.
Mr. Bindal's family is honored to provide this scholarship to a student that will continue his passions and vision of cultivating Hindu values, raising awareness and serving the community.